I have hankered after an S2000 for quite some time and did months of research before settling on the 2005 facelifted UK model (F20C engine, with AP2 chassis, body and wheel upgrades). This is the cable throttle version of the F20C, before the DBW.
Being a serial modifier, I knew it wouldn't remain standard for too long and I have big (but subtle plans) of which will gradually get posted here.
These are the photos from the original advert. When I picked it up it had a smidge under 42k on the clock, so a nice low mileage for the age: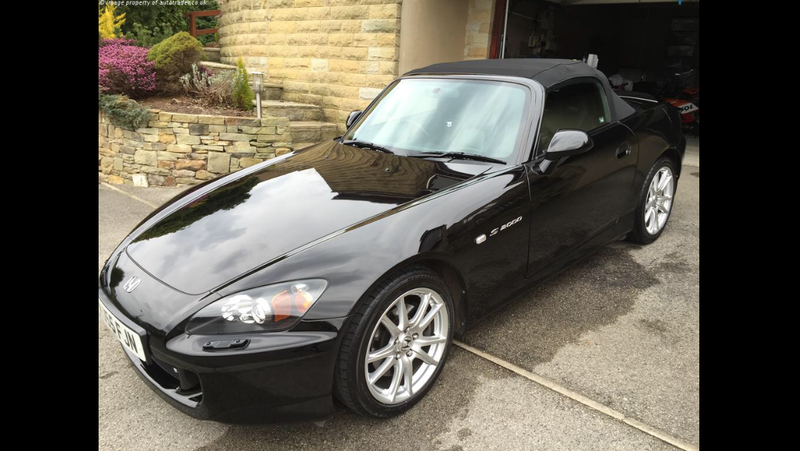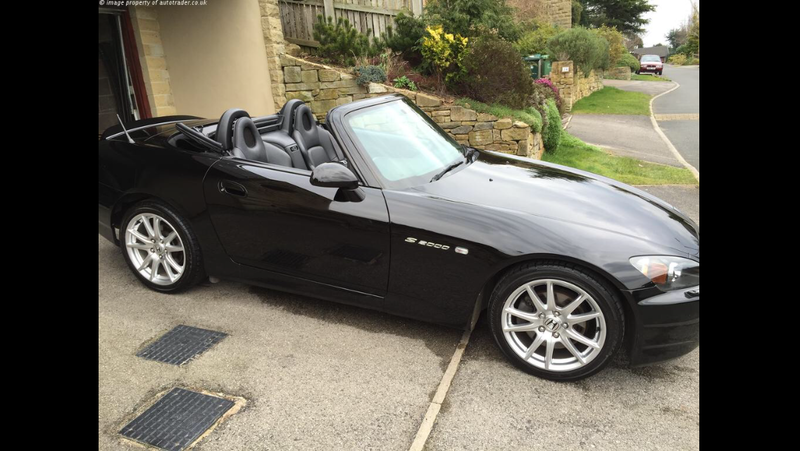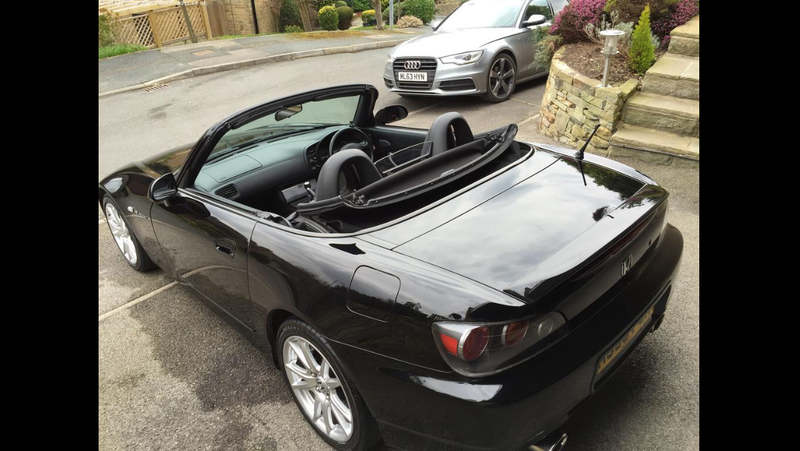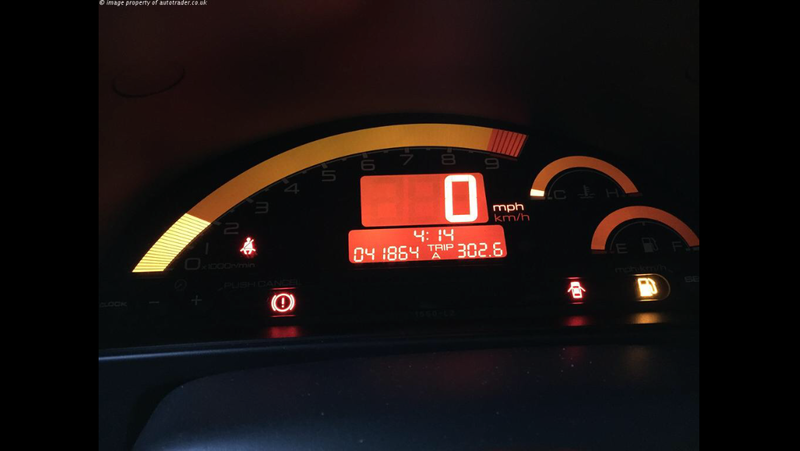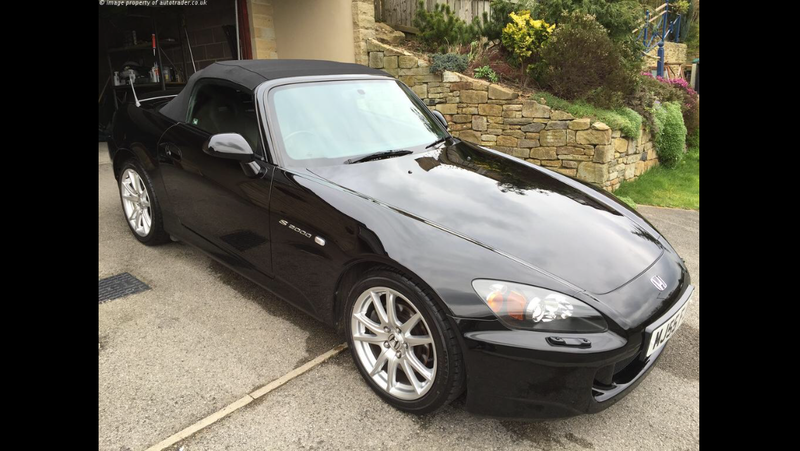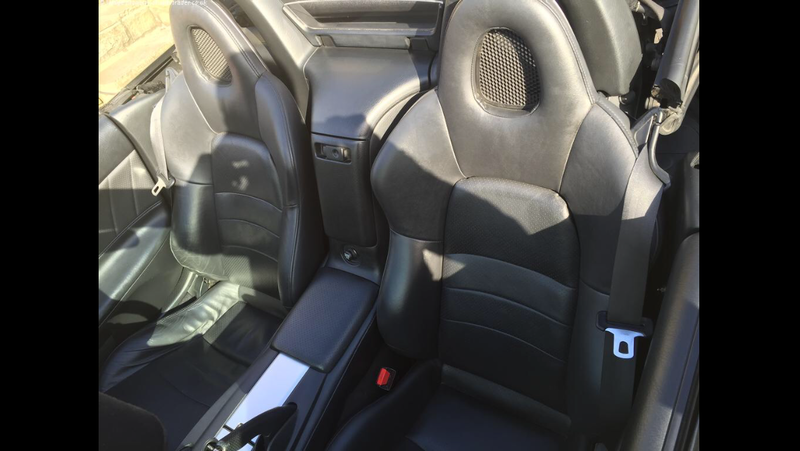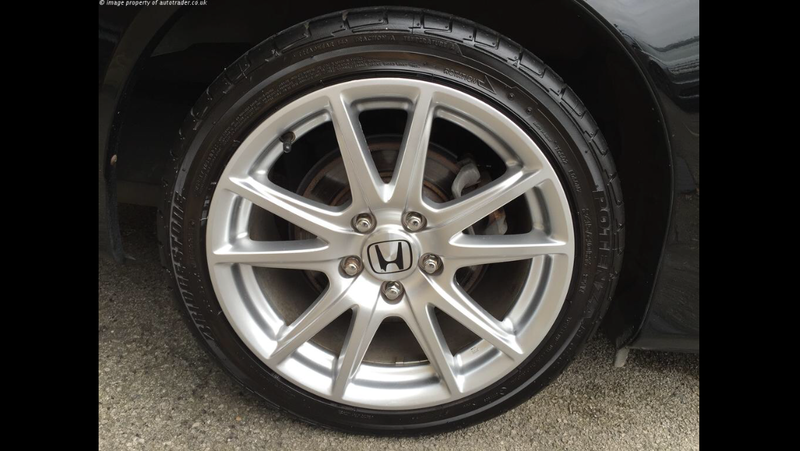 Knowing it would be used on track required some immediate upgrades which consisted of brake fluid (Castrol SRF), stainless-steel braided brake hoses (Goodridge), new discs (Pagid blanks with a custom groove design copied from APs discs) and Pagid RS29 front pads: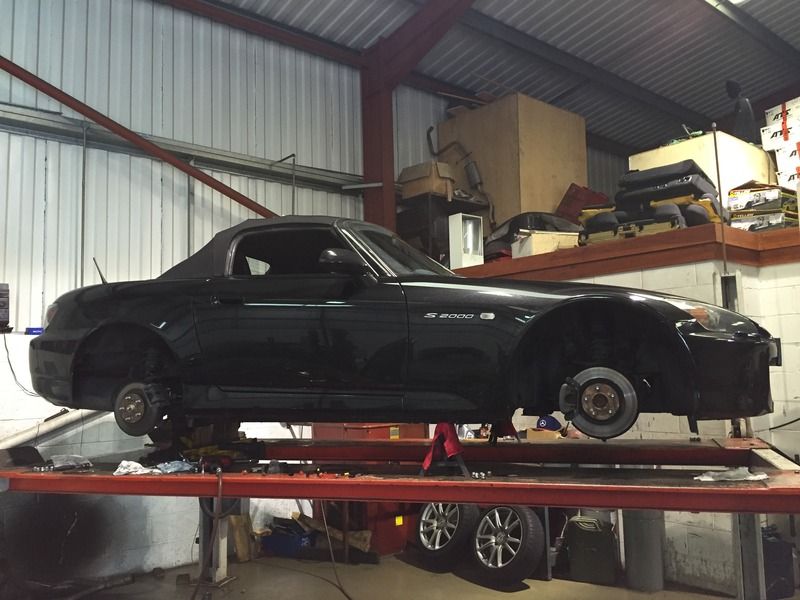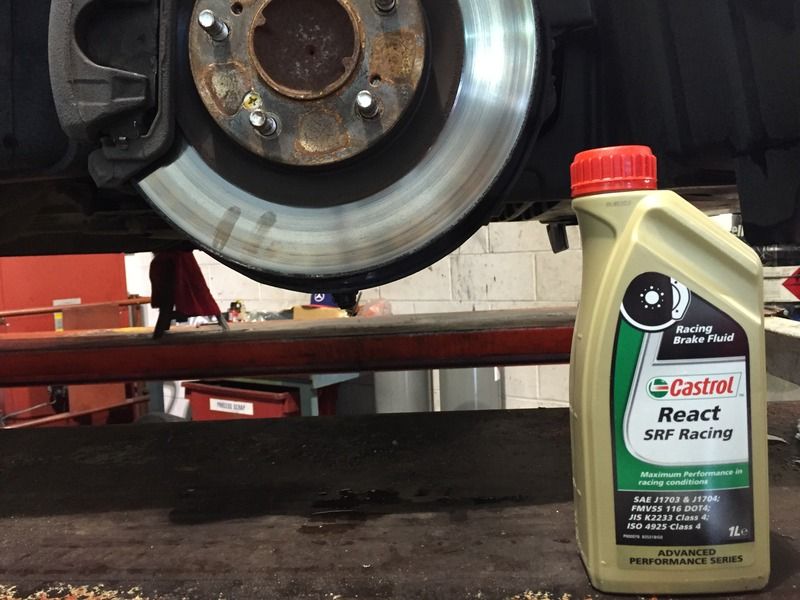 I had also read about the oil surge issues that these cars suffer with, so bought a sump off eBay and had it modified to prevent such a catastrophic event from occurring: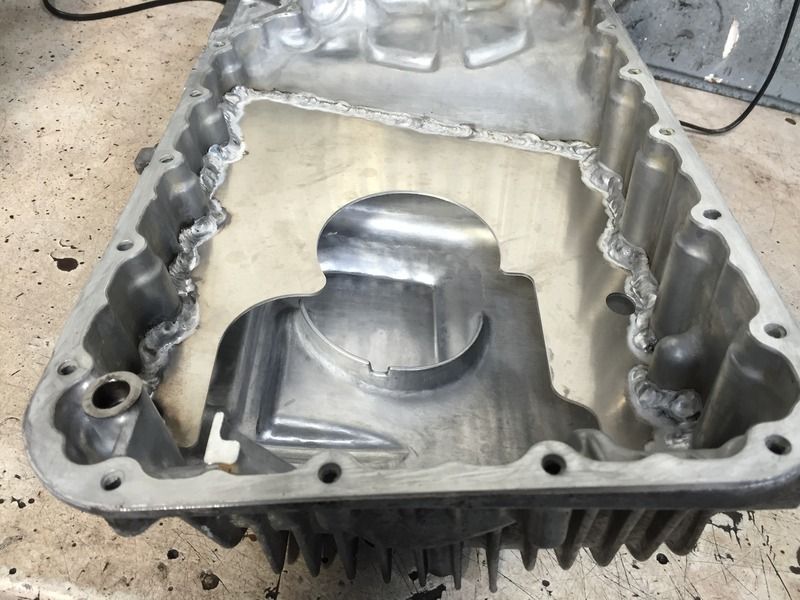 At the same time all the oils were changed (engine, gearbox and diff), just for piece of mind (it looked like it had been well looked after though, and the full Honda history seamed to show).
By this time, I felt that the noise was a little lacking, but not wanting the drone reported with the majority of exhausts (plus having read that there seemed to be very little gains in this area), I opted for the "UK mod" with 25mm sections: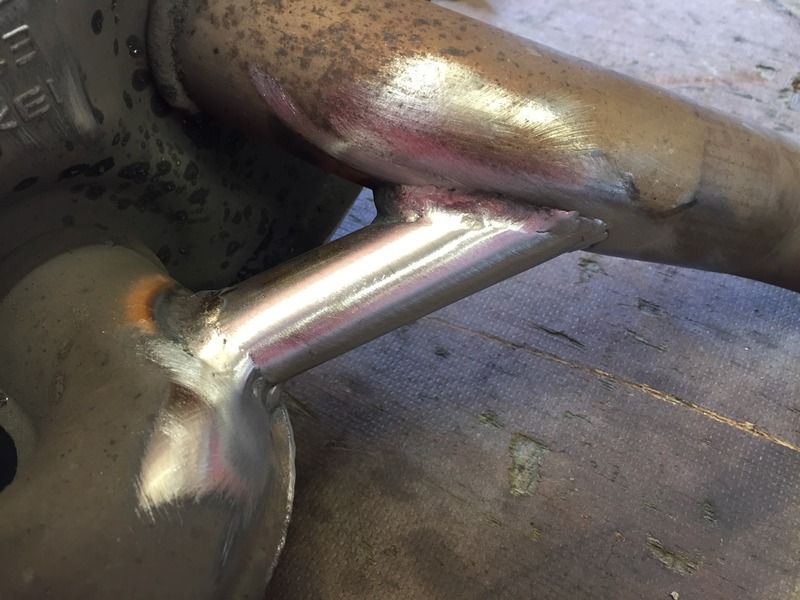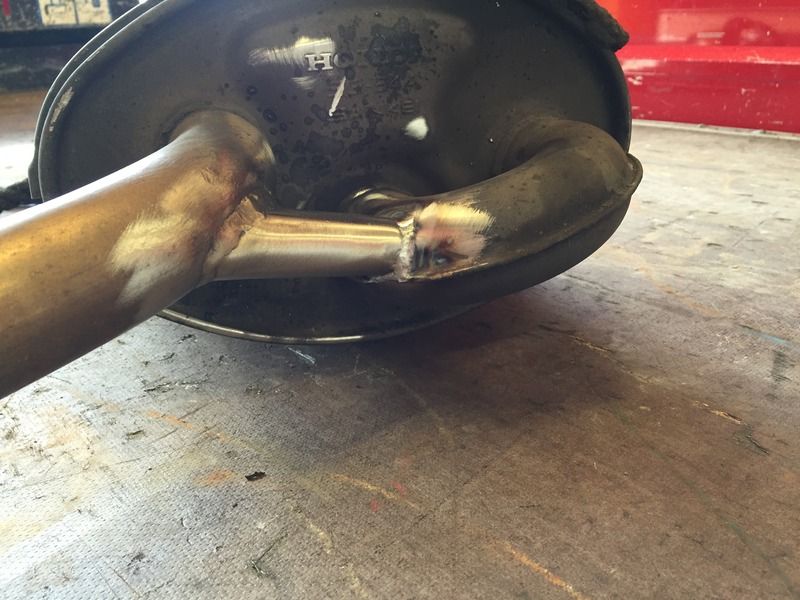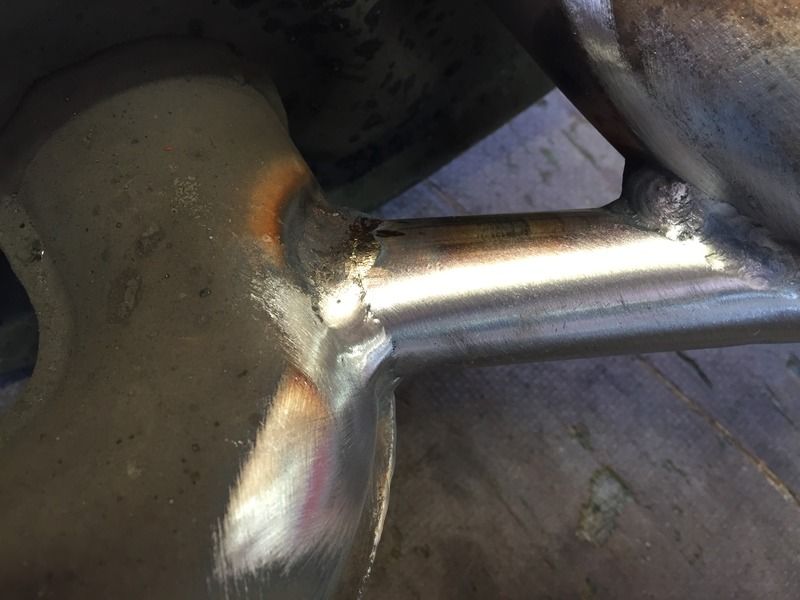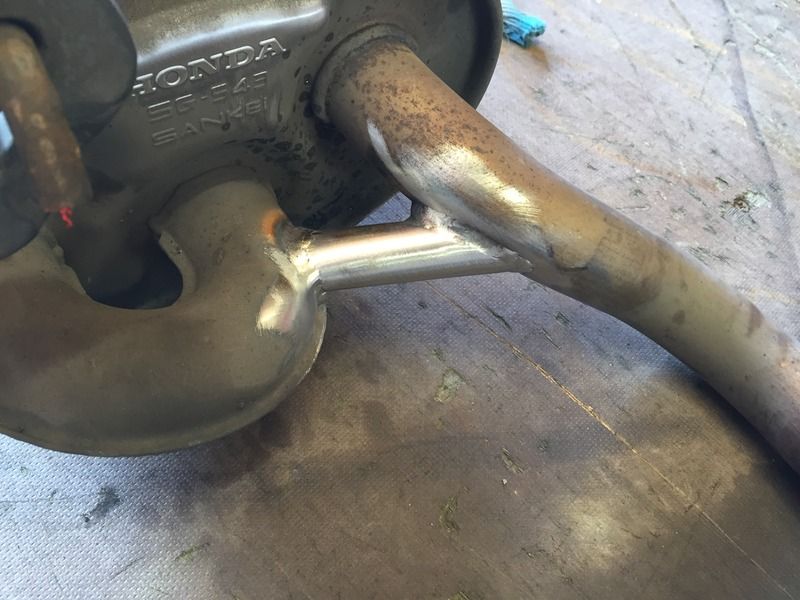 Although not particularly high grade material, I was pleasantly surprised to note that the factory exhaust is actually stainless-steel.
Next up was to see what the base power figure was. I had heard from a tuner friend of mine that these cars are much like the E46 M3s and never quite make the claimed manufacturer's power, with as low as 210bhp @ the flywheel being seen. I hoped that with relatively low miles, mine would be a good one and was relieved that this was so. Absolutely bone stock engine:
218.8 bhp @ the flywheel (182.8 bhp @ wheels)
In my internet research I read that the best "bang for buck" (sorry Andre(w)
) was to fit a test pipe, which allegedly would also give a raise in decibels as well (again without the dreaded drone), something which the UK mod had failed to adequately do (coming from a CSL with a full Supersprint, which is a ridiculous 106dB static
). I sourced a cheap eBay item, fitted it and then went back to the dyno: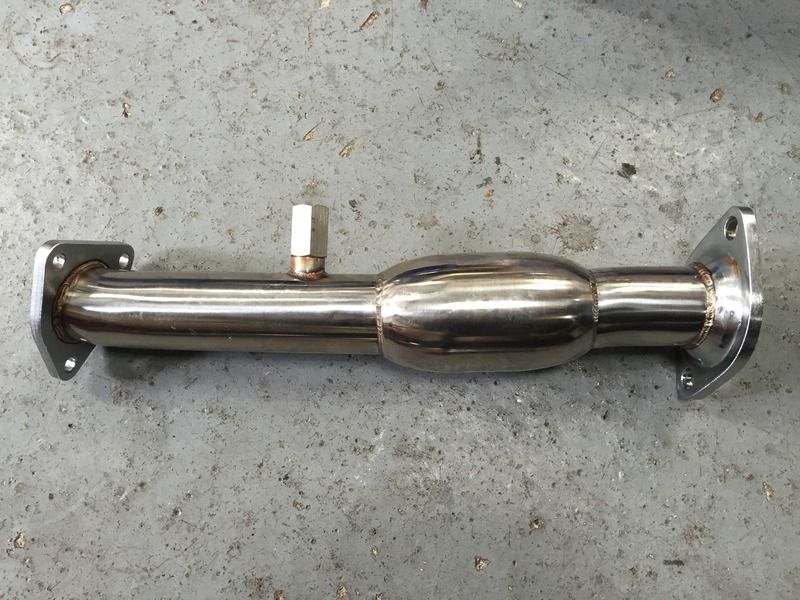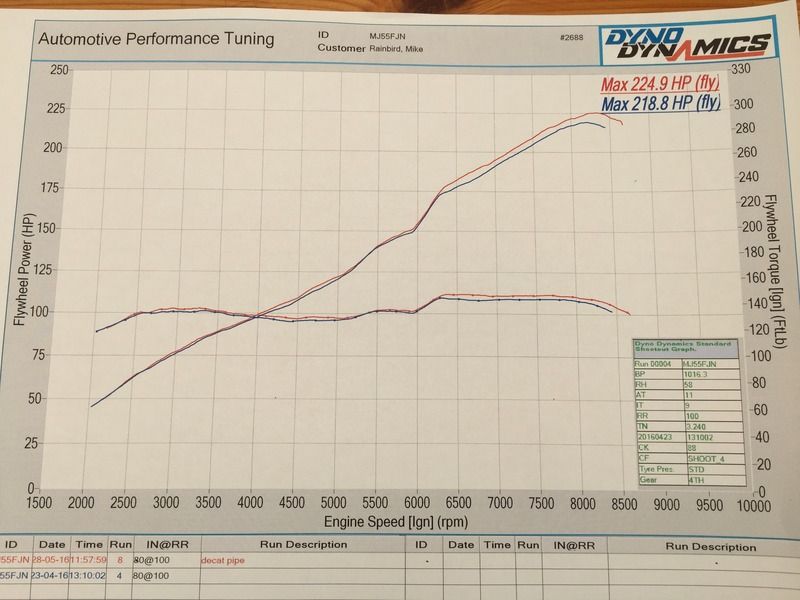 224.9 bhp @ the flywheel (189.2 bhp @ wheels)
Not only was the increase in power a surprise, but the added noise was spot on. As quiet as standard off throttle, but with a lovely deep angry sound in VTEC. This is without any tune, as it is still on the standard ECU. I understand that with a full tune (sadly requiring a standalone ECU - much later), that I can expect a big increase in the mid-range from this set-up. Obviously at this stage, it is still 12bhp down on the claimed figure, so not sure where the missing ponies are, as it seems a very healthy example (as an idea, Matt's car (he of huge turbo and Quaife sequential gearbox fame) only made 225bhp on these exact same rollers after full exhaust, Password JDM intake and a full remap on an AEM ECU (admittedly with 30k more miles under the wheels)).
Next was to update sort the seats out, as although quite nice for an OEM set up, they're not grippy enough for track use. Luckily I had some nice Recaro Pole Positions that were removed from my last car before I sold it, so were effectively free (man maths
) apart from the seat rails required:
The driver's seat was easy, as it was the ABE version with the large seat belt hole, but the passenger one is proving a bitch - spot the difference: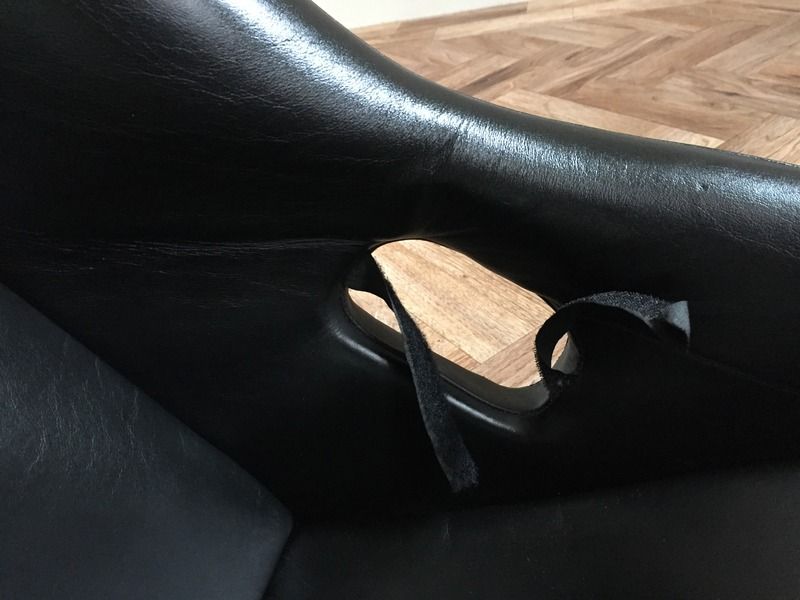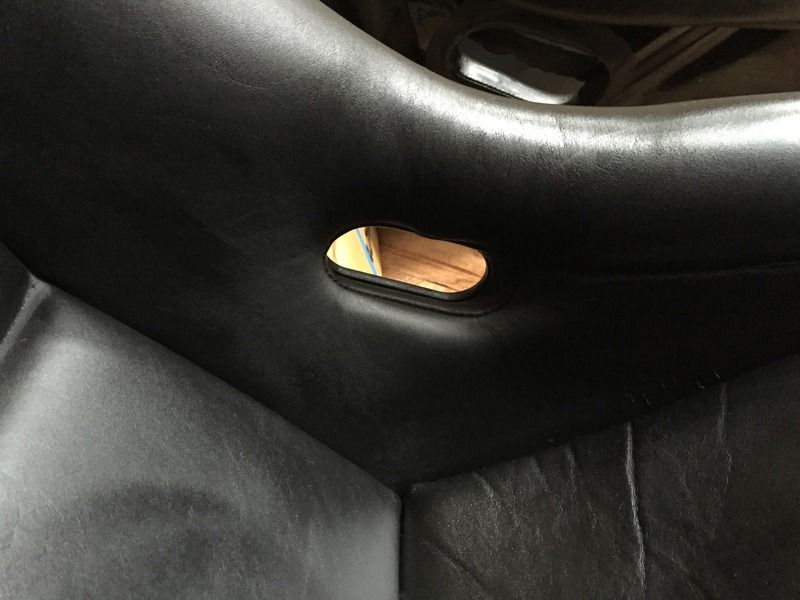 As I had originally ordered these seats a couple of years apart, and was using harnesses in the other car, I hadn't even noticed the difference (I never sat in the passenger seat LOL) until I tried to fit them in the S2000. So at the moment, it is just the driver's seat until I find a suitable solution to this problem:
One of the previous owners had the car set up by Centre Gravity including a full check of the standard corner weights. It has then been set up for a mild "fast road" set up, which seems to be okay at the moment for the standard suspension:
Front:
Left: Toe: zero, Camber: -0°57', Caster: +6°20', Corner weight: 309kg
Right: Toe: zero, Camber: -0°57', Caster +6°19', Corner weight: 300kg
Rear:
Left: Toe +0°25', Camber: -1°31', Corner weight: 331kg
Right: Toe +0°25', Camber: -1°30', Corner weight: 311kg
Total weight (which includes 9kg of additional fuel ballast): 1251kg
With the de-cat pipe being considerably lighter, it will be interesting to see what it ends up at once the Ohlins have been fitted. Will also be interesting to see what a few years have done to the settings as well.
On track it is an absolute joy, completely balanced and throttle adjustable and despite the comedy body roll, it loves to rotate

: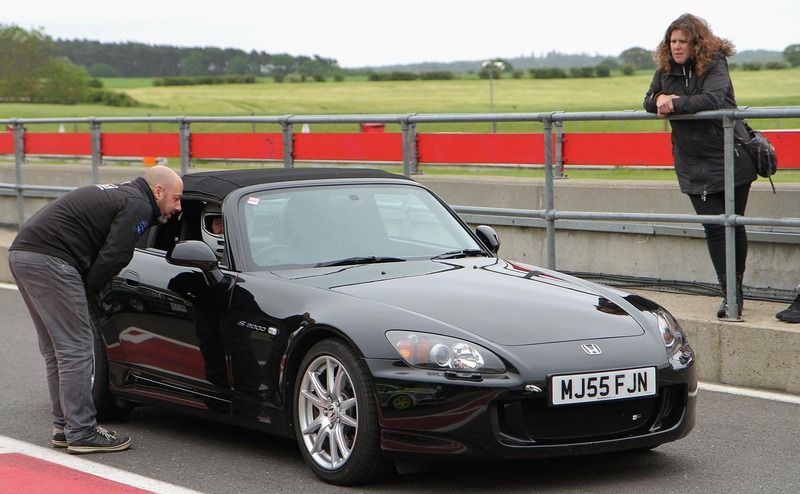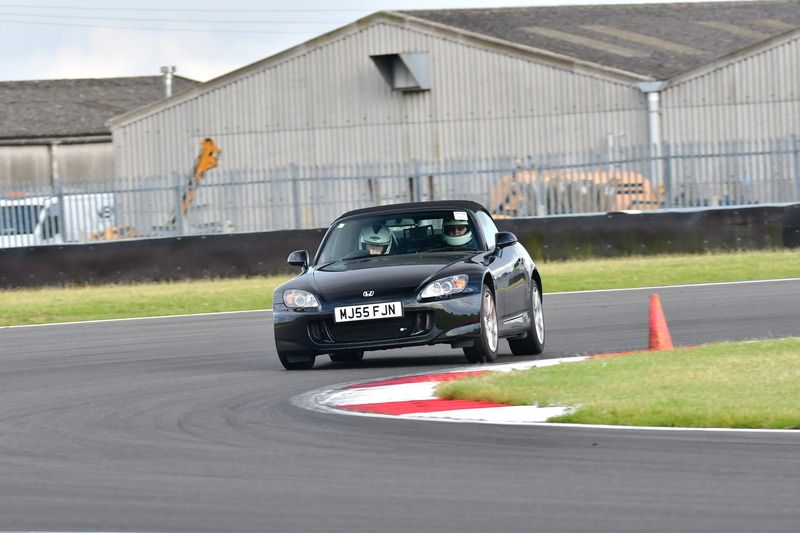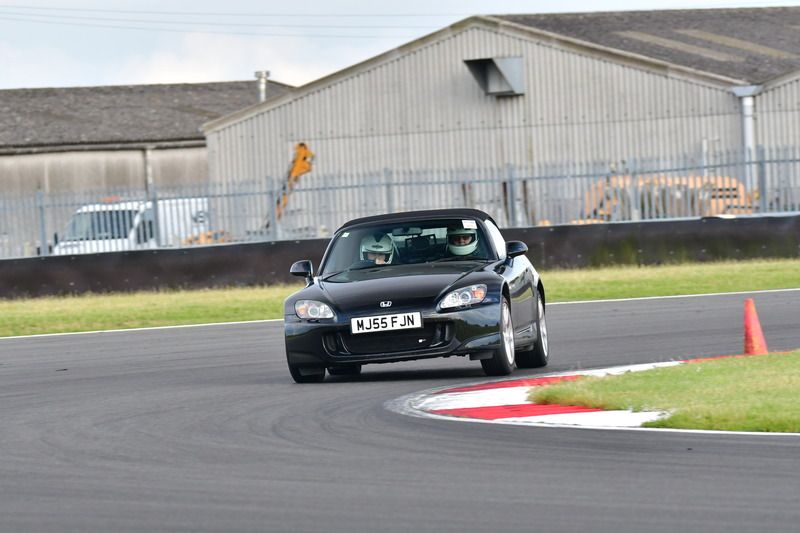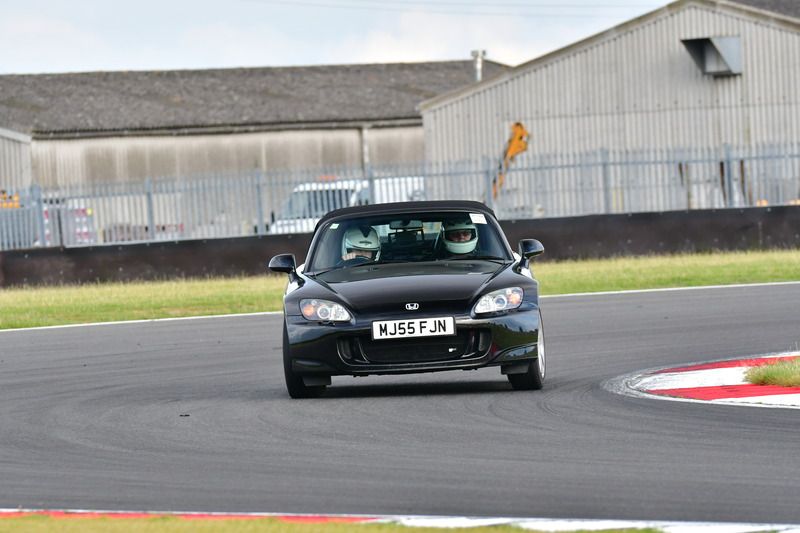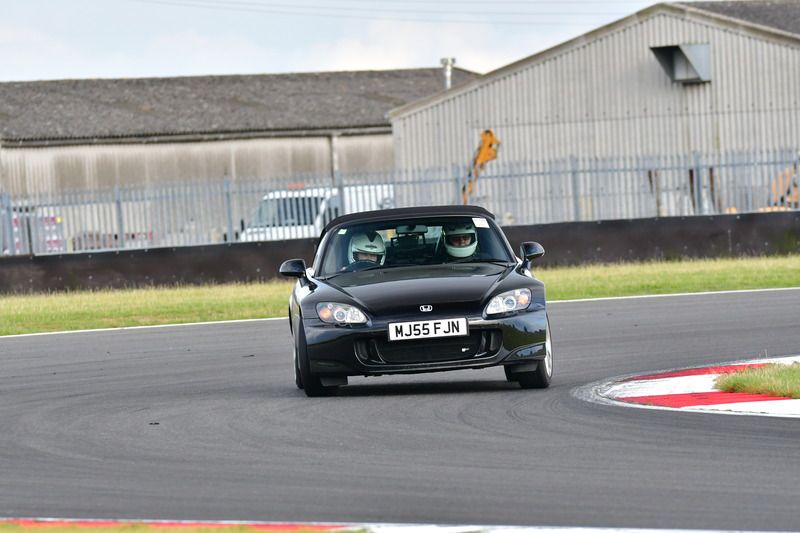 At this track day, I did have an issue with the cheap eBay test pipe, but that was down to me fitting a heavy "CEL light defeat" spacer that was too much for the thin wall tin can metal of the decat: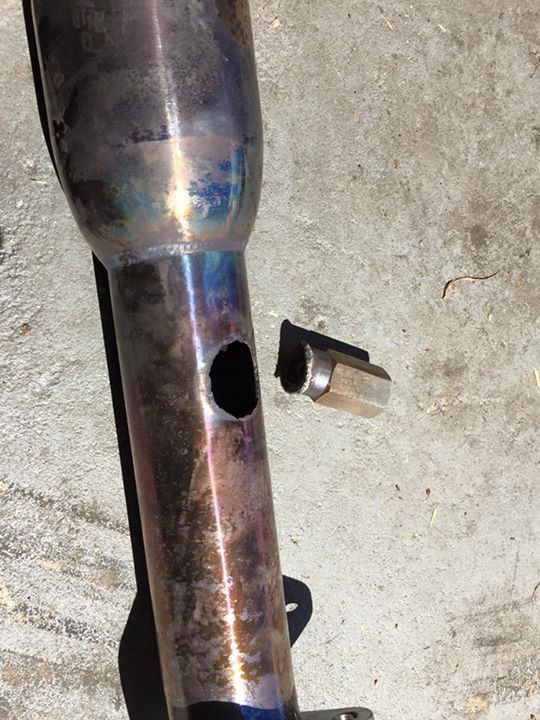 I have since modified it to try and ensure that it doesn't do it again:
At the same time we had it on the ramp refitting this, I installed the Spoon Rigid Collars for the subframe and some rear diff collars as well. This transformed the handling without transmitting too much NVH. There is some extra buzzing through the transmission that wasn't there previously (especially at high rpm on the over-run), but this is a trade off worth accepting for the improvement in the handling. Gone has the propensity for the rear to lurch or feel luck the tyre is tucking in or folding on the rim.
I then bought the J's Racing strut brace, not because I felt that it needed any more rigidity, but because of the mounting for the ETD. The gear change is now much more precise and shift quality is much improved. I can't feel any difference regarding the chassis though: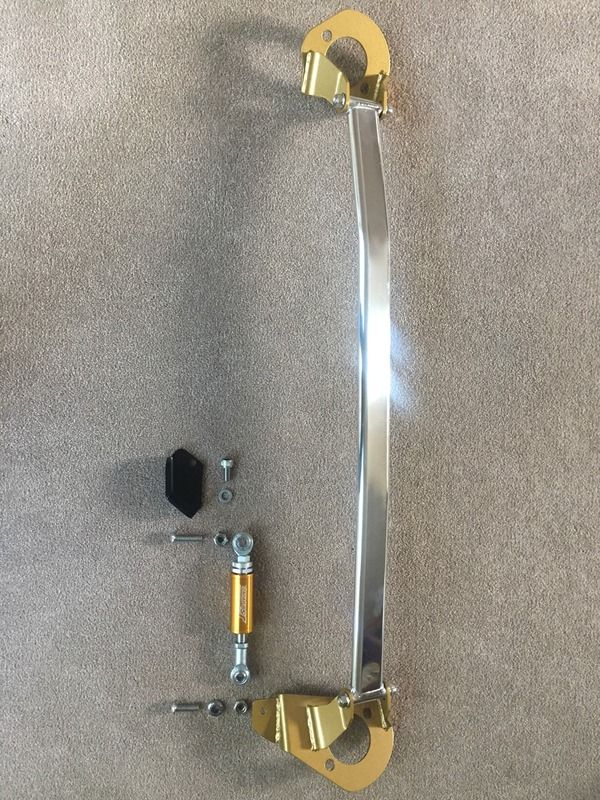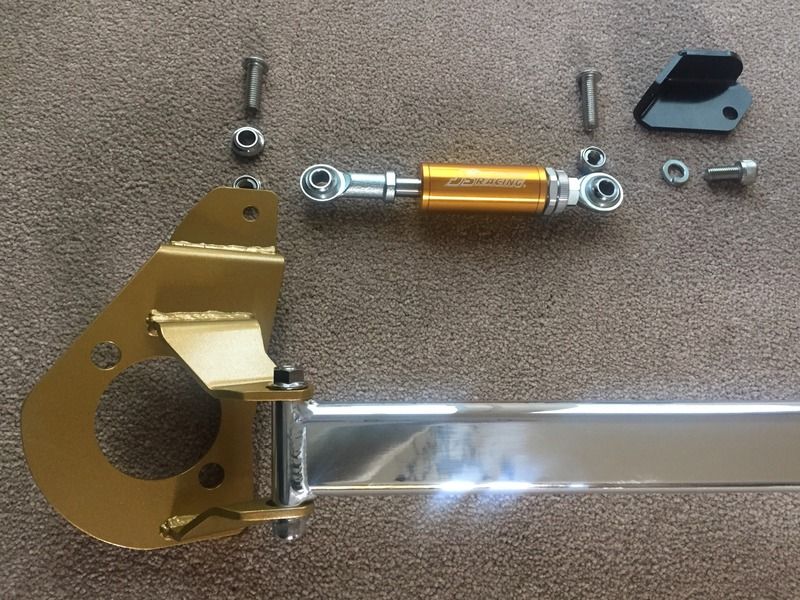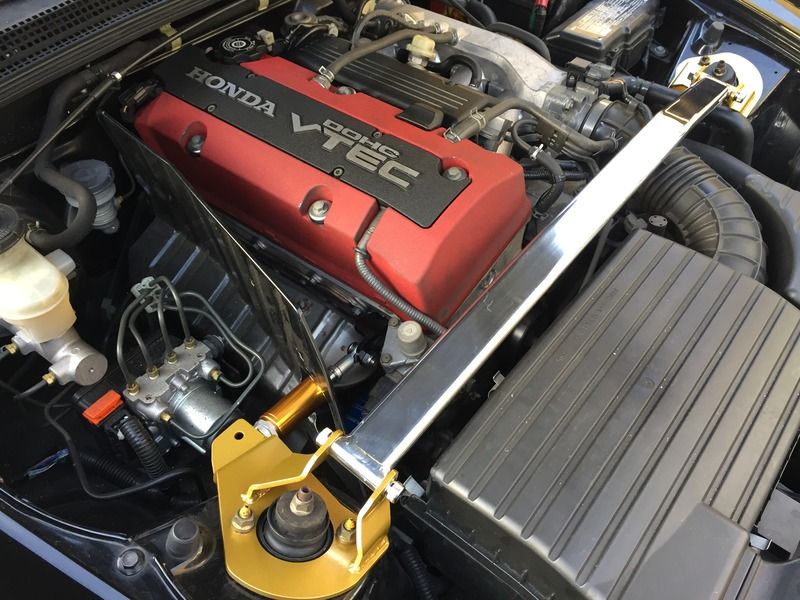 This brings us effectively up to date.
I have the following items on order:
Ohlins suspension (arriving mid Dec) with 10kg rears
Axialflo quick-shift (arriving imminently)
And have purchased a set of rear AP2V1 wheels to go on the front. These need to be machined to the 70.1 centre bore and then refurbed, where they will be fitted with 245/40 x 17 AD08s all round (I want it to look standard at a quick glance, hence why going to the trouble of doing it this way). I have a set of 15mm hub centric spacers to ensure the fronts will fit without catching on full lock and this is the winter upgrades complete ready for the trackdays to begin in February.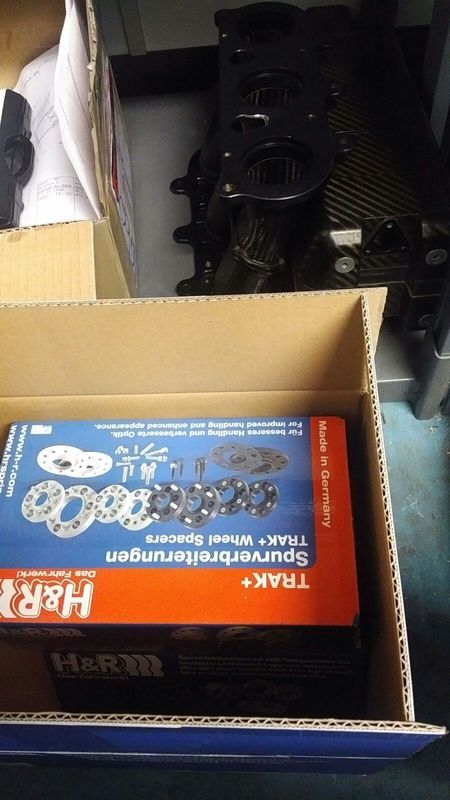 Future plans are Spoon calipers and Urge vented rear discs (it gets through a set of rear pads EVERY track day
). I also have the Spoon steering rack bushes and they will be fitted at the same time as the suspension.
I'd like to go Haltech ECU and a Password JDM intake, but might just fit a scoop and gut the standard airbox which according to Gernby is supposed to yield very good results. If I could ever justify the costs, I'd like the Urge Unicorn header and Gernby mid-pipe mated to the standard back-boxes and then ultimate dreaming would be the BalladeSports F24C increased deck conversion. 300bhp NA - mmmmmmmmmmmm nice.